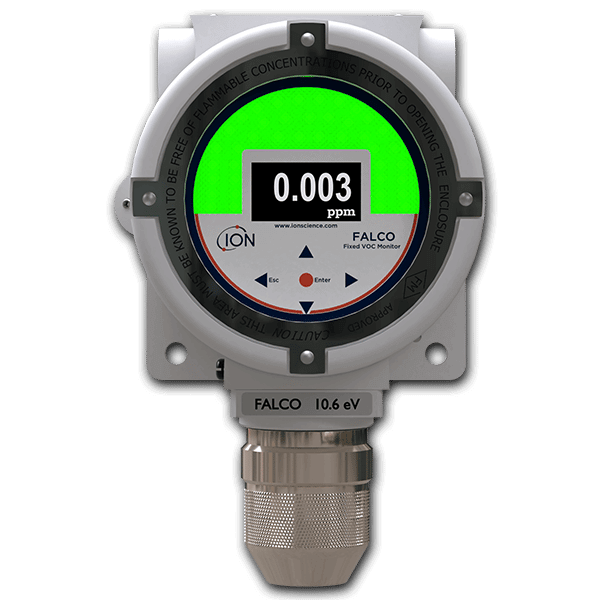 Falco Diffused Gas Detector
Fixed VOC Gas Detection 0 – 1000 ppm
Detection Range: 0 – 1000 ppm
Stack Colour: White
Lamp: 10.6 eV
Calibration Points: 3 – points
Sensitivity: 0.1 ppm
Fixed VOC Gas Detection 0 – 1000 ppm
The Falco fixed VOC Gas Detector, Diffused model, is an intrinsically safe and ATEX certified instrument making it approved for use in ATEX-zoned hazardous areas. Our fixed gas monitor is designed with Typhoon technology, making it able to withstand exceptionally harsh environments, including 0-100% relative humidity and condensing humidity, and temperatures from -40 to +50 °C without any compromise in performance.
In addition, the Diffusive model also has an externally located Intrinsically Safe sensor for quick and easy servicing without the need for a hot work permit and only requires annual maintenance. Dual certification allows your fixed VOC gas detector to be serviced and calibrated in a hazardous environment without having to remove power!
When you have the right gas detection system in place, your workers and site stay safe, and work continues smoothly.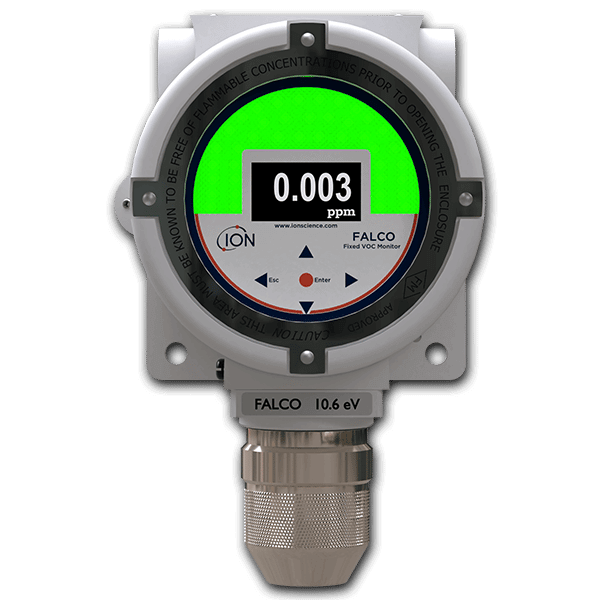 Main Case (Class 1, Div 1, Groups ABCD T4)
Sensors Housing (Intrinsically Safe Sensor Housing)
Typhoon Technology (Moisture Resistant Sensor)
Status Indicator (Status can be viewed from a distance even in bright light)
OLED Screen (High contrast screen can be viewed in bright sunlight)
5 Switches (Multiple switches offer an intuitive, easy to use, setup and adjustment)
Switch Confirm (Keys illuminate to confirm the selection)
The Falco Diffused Kit Includes
Enabled with both Modbus and 4-20mA output protocols the Falco offers site-wide networking capabilities, making it equally suitable for large refineries, smaller manufacturing plants or even wastewater processing sites. With the ability to place Falco wherever it's needed with confidence, the device assures you that whether you're monitoring VOCs in one area of the plant or want to cover a whole site, Falco can deliver the results you need.
Our standard kits contains the following:-
Falco MiniPID (6-Pin) White
Warranty Registration Card
Safety Notice for Falco Instrument
PID Lamp Cleaning Kit
Falco no pump c/w Rj45 Cable
MiniPID Electrode Stack Removal Tool
Package Information Card
Technical Drawings
For protection in explosive areas the FALCO's Main Unit electronics are fitted in an ExD enclosure and the PID Sensor Head utilises intrinsically safe electronics. For measurement and fitment details please see below to understand if the Falco instrument is fit for your requirement. Should you need further support or information, contact us directly or visit the resource centre and download the Falco Manual.
Technical Specification

Specification

Value

Sensor
Photoionisation detector
Detection ranges and sensitivity with 10.6 eV lamp fitted*
10.0 ppm, 0.001 ppm
50.0 ppm, 0.01 ppm
1000 ppm, 0.1 ppm
3000 ppm, 1 ppm
Detection ranges and sensitivity with 10.0 eV lamp fitted*
50.0 ppm, 0.01 ppm
Response Time (T90)
Diffused models: <30 seconds**
Accuracy
± 5 % or ± 1 digit
User Interface
OLED high contrast white on black: 128 x 64 pixels
Screen size: 35 mm (w) x 17.5 mm (h)
5 magnetic switches with LED confirmation (up, down, left, right and enter)
Status indicator
Bright visible status indicator: RED, AMBER, GREEN
Output
4 – 20 mA
2 programmable relays
RS 485 Modbus
Falco diffused environmental specification
Operational Temperature: – 40 to 50 °C 0-100 % RH and condensing humidity
Storage temperature: – 40 to 60°C
Ingress Protection
Main Unit:IP65
Sensor Head: IP65
Power
Working voltage: 12 to 40 Vdc
Typical 2 W, Max 7 watts
Mechanical Interface
2 x cable entry points with 3/4″ NPT threads (left and right)
Mounting Points
2 x M8
Weight and Dimensions
2.9 kg
205 (h) x 191 (w) x 125 (d) mm
EMC
EMC Directive 2014/30/EU
Certification
II 2G db ib IIC T4 Gb
Class 1, Div 1 Groups ABCD T4
ISO9001:2015
* All specifications quoted are at calibration point and under the same ambient conditions.
Specifications are based on isobutylene calibration at 20 °C and 1000 mBar.
** When set to continuous measurement
Modbus® is a registered trademark of Schneider Electric
Download Brochure
Accessories and Replacement Parts
There are a number of accessories and replacement parts available for the Falco fixed voc gas detector, which can be found below. Please contact us if you would like more information or to place an order.
Accessories
Replacement Parts
If you have any further questions, please enquire now.